A bear market occurs when stock prices decline or it is a period in which stock prices remain relatively the same for a long period of time. Looking at chart 1, we see that the Dow Jones Industrial Average from 1915 to 1924 pretty much centered around the 100 point mark, which indicates this was a bear market.

Starting at 1924, we can see that the Dow Jones Industrial Average took a dramatic upward turn all the way to September 3, 1929 when "the Dow" (for the first time) attained a record value of 381 points. This was definitely a bull market.

After 1929, the DJIA took an extremely sharp decline until July 8, 1932 when it reached a low of 41 - the lowest the DJIA has ever been since 1896. Even though the market rose (slowly) after 1932, it was a gradual increase and it took 25 years for the DJIA to surpass the September, 1929 high of 381. Because of these reasons, the period from 1929 to 1953 is usually considered to be a bear market.






---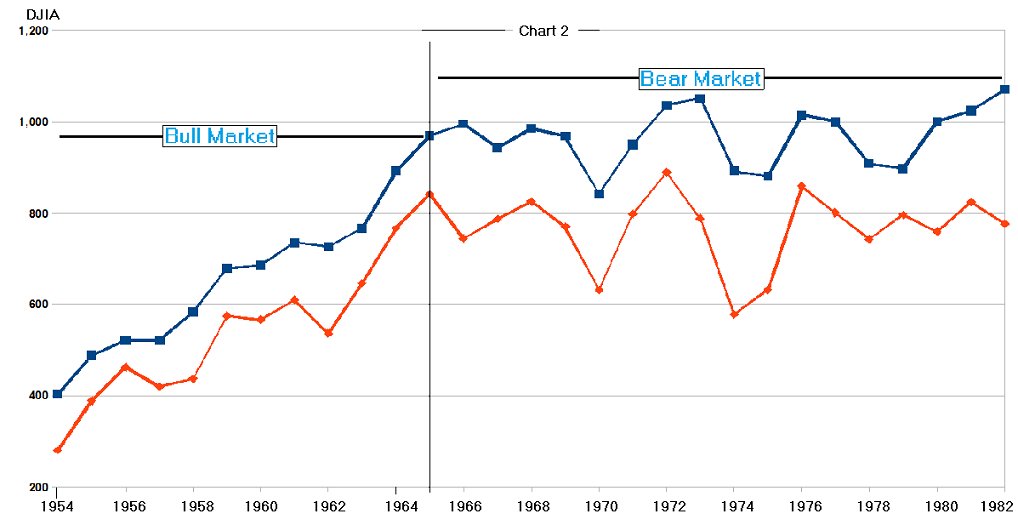 On November 23, 1954, the Dow reached 382 points which finally surpassed the September, 1929 all-time high. The Dow continued this growth through February 9, 1966 when it reached 995 points, the highest that the DJIA would ever go for the next 5½ years. On October 7, 1966 the Dow had fallen to 744 points ushering in a sluggish bear market which would last until 1982.






---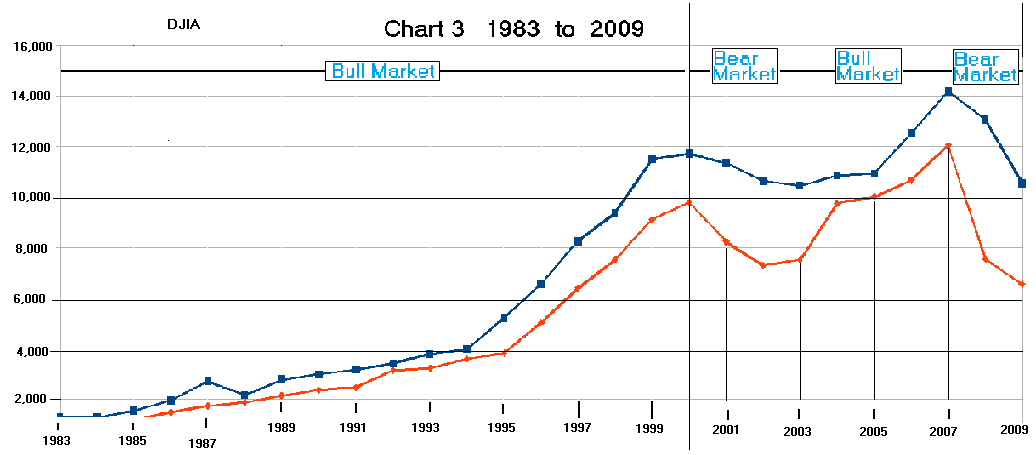 1983 began a period of robust stock growth. The DJIA doubled from 1983 to 1987, it doubled again from 1987 to 1995 and once again from 1995 to 1999. Even this rapid growth came to an end in the year 2000, the start of a bear market.
---

We are now in the middle of a bull market, which started in 2010 and the Dow broke the "20,000" mark on January 25, 2017.
Continuing this trend, the Dow broke the 25,000 mark on January 4, 2018.
The bull market continues as the Dow broke the 30,000 mark on November 24, 2020.
The Dow passed the 35,000 mark on July 23, 2021.
This bull market could come to an end, but when?