Also, you can replace the fixed resistor with a variable resistor.

As for the value of the reisitor, most websites suggest using 1,100 ohms for the neck pickup and 2,200 ohms for the bridge.

As another option you could try grounding the humbucker center wire through a capacitor.
The value of the capacitor should be 47 to 82 nf.
Keep in mind that using a capacitor would cause more of a tone change than using a resistor.
In fact, coil cutting through a capacitor usually has more treble than just using a resistor.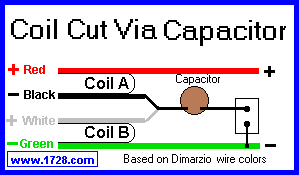 ---
Here is a circuit which allows you to have the tones of full humbucker, coil cut through resistor or coil cut through capacitor .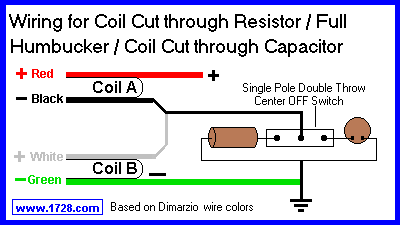 ---
To see, a great many other coil cut options, we suggest you visit our coil cut web page.