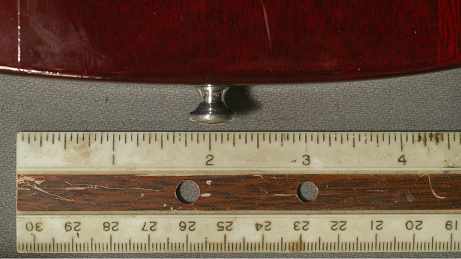 First, get a ruler and very cautiously (using a pen, a small nail, etc) mark the bottom of the guitar where you will eventually drive the screws for the guitar buttons. We recommend making these marks two inches to the left and two inches to the right of the present guitar button location.
Remove the guitar button.




Using a hammer and carefully tapping a countersink tool into the marks you just made, make the starting holes for an electric drill.



Drive the countersink about a half inch into each of the marks. (You'll be surprised how much force this will require. Solid body electrics are made of very tough wood.)




After the starting holes are tapped, the bottom of the guitar should now look like this.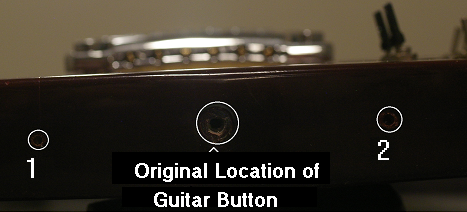 Select an appropriately-sized drill bit, then using your electric drill, insert it into starting holes (1) and (2) which you just made with the countersink tool.
Drill to a sufficient depth such that the screws can be easily driven.
Secure the guitar buttons into place using the screws.




The bottom of the guitar now looks like this.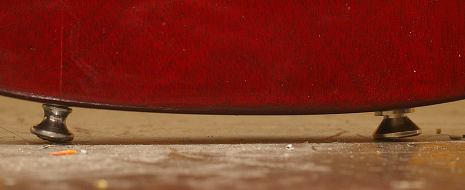 Notice that the guitar buttons do not match which really doesn't matter unless you are exceptionally discriminating when it comes to guitar aesthetics.

What is more important is for the guitar to "sit" almost vertically when placed against a wall. For this to occur, the guitar buttons should be close to equal height.
Here we can see that the guitar button on the right can use some additional height and we'll correct that using a grommet.




After inserting the grommet the guitar button heights are much more evenly matched. Replace your guitar strap.
Now, if you want to take a short rest from playing, you can easily rest the guitar against a wall using your newest "guitar stand".